"Owing to the recently announced lineup changes in THE TANGENT, the concerts in NOVEMBER at which the Tangent were to appear will now be replaced by four informal gigs by Andy Tillison and former Tangent member Guy Manning who also fronts his own band, 'Manning' ".

This long overdue 2 man show will call on music from the intertwining careers of both artists and is promised to be light hearted and exceedingly varied!

These concerts will be played as support to the remarkable West Midlands based band IO Earth who will be providing an excellent full band show."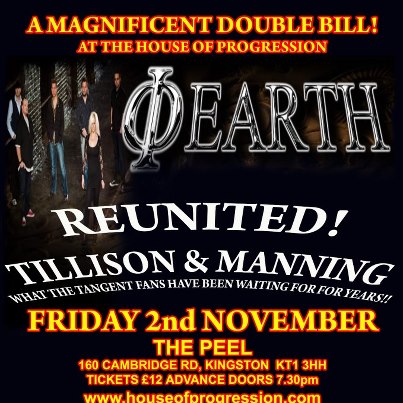 The dates:
Thu 1st Nov - The Tunnels, Bristol
Fri 2nd Nov - The Peel, London
Sat 3rd Nov - CRS, Maltby
Sun 4th Nov - Robin2, Bilston
And for a small taster, here they are as Gold Frankincense and DiskDrive, with Hugh Banton, playing a Van der Graaf Generator song.